CIO Connect discussion – The Future of business and work in the era of generative AI- 27th March 2023
The next briefing session will discuss the topic of the impact of generative AI on the way we work and run our businesses. ChatGBT certainly has the 'wow' factor, but what more is to come? And does it provide plausible responses to questions rather than the truth? Despite concerns it is already impacting how software is being developed and accelerating the natural rhythms of business decision making and action. It has also opened our eyes to the vast range of AI tools that are available and already being used by our staff without our knowledge.
During the discussion moderated by futurist Rohit Talwar, visiting from London, we'll consider how these new AI tools and other technology disruptions could impact the workplace over the next few years. How might AI impact business strategy? What business models are enabled? What jobs are most at risk?
About Rohit Talwar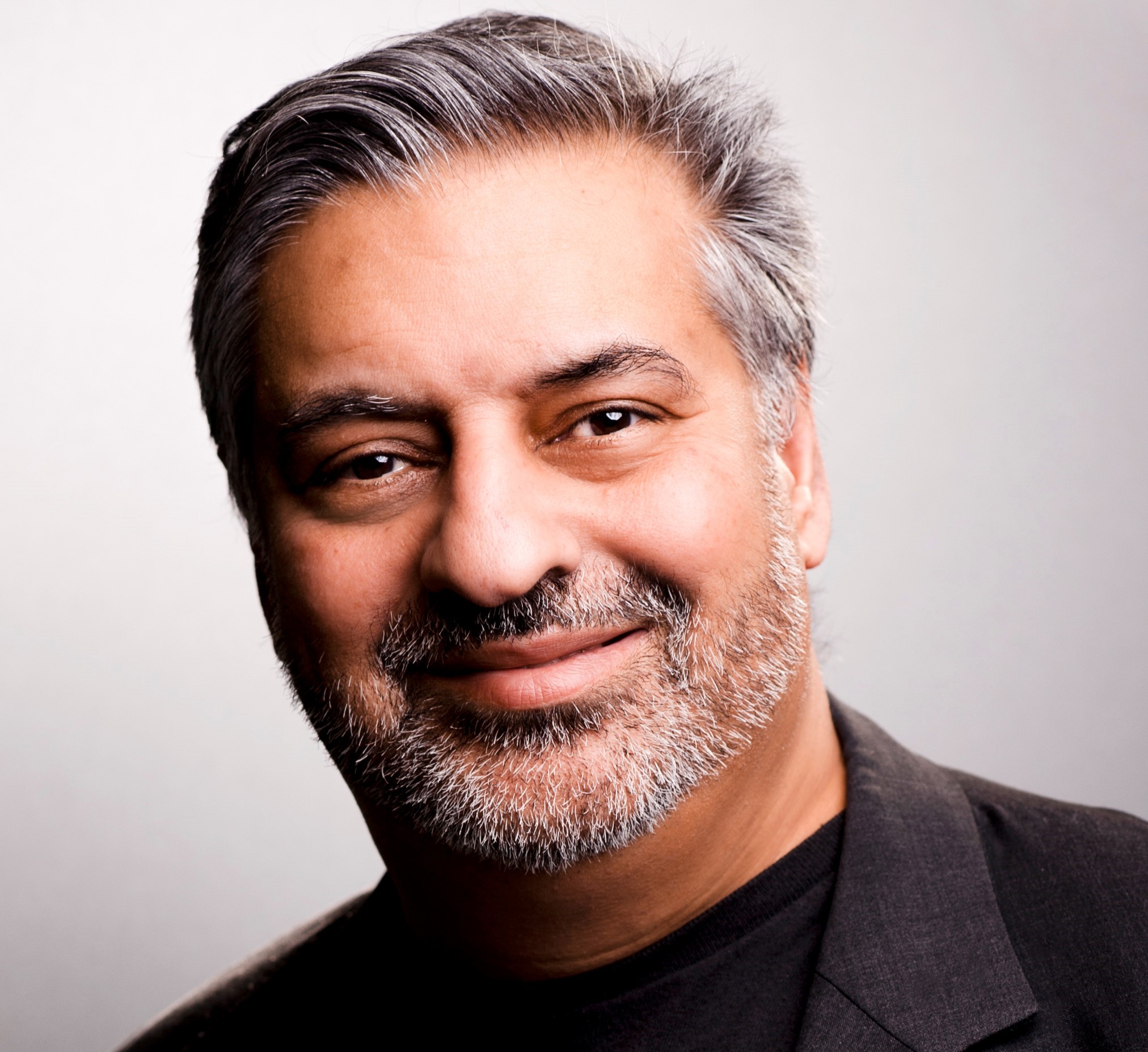 Rohit Talwar a global futurist, award-winning keynote speaker, author, and the CEO of Fast Future. He helps clients navigate disruption, understand the emerging landscape, and shape the future. Rohit has a passion around futureproofing ourselves, and how to advance individual lives, society, and business by harnessing new ideas, innovation, and disruptive developments such as 'corporation zero' thinking, AI, and human enhancement. He is currently helping clients evolve their digital strategies towards a corporation zero approach and understand and develop strategies for crypto, blockchains, metaverses, and AI.
Rohit has delivered 2,000+ keynote speeches and executive workshops tin 70+ countries on six continents. He is the co-author and lead editor of eight books on the future. My latest are Aftershocks and Opportunities—Scenarios for a Post-Pandemic Future, and Aftershocks and Opportunities 2: Navigating the Next Horizon.
Rohit appears regularly in the media, including the BBC, Sky TV, and State TV in China, India, South Korea, Singapore, and the UAE. He has been covered 5,000+ times globally in national newspapers including the Financial Times, Guardian, Metro, Daily Mail, Daily Mirror, Times, Times of India, and Washington Post.
Rohit is the co-author of Designing Your Future; The Future of Business; Beyond Genuine Stupidity—Ensuring AI Serves Humanity; The Future Reinvented—Reimagining Life, Society, and Business; A Very Human Future—Enriching Humanity in a Digitized World; The Opportunity at the Edge—Change, Challenge, and Transformation on the Path to 2025, and Aftershocks.
___________________________
CIO Connect discussion on Quantum and Cybersecurity – 28th November 2022
The step change in computing power from Quantum information sciences and technologies will cause disruption across the entire landscape of technology applications.
After a round-the-table look at where Quantum is likely to have near term impact, we will hone in on the key challenges and threats. Sufficiently capable quantum computers may compromise or weaken most forms of traditional asymmetric and symmetric cryptography. Consequently, there are tasks every organization should be performing today, and in the years ahead, to prepare for the worst-case scenarios.
During the evening we will discuss the typical use cases of quantum technology, the quantum threats against traditional cryptography, the current state and trends of quantum technology development, and opportunities identified by the hackers community. We will also touch on post-quantum migration plans.
___________________________
CIO Connect briefing on Rethinking Cybersecurity – 30th March 2022
We have assembled a very knowledgeable set of speakers including the analyst who coined the term zero trust when at Forrester.
Our intent is to present new thinking about cybersecurity and to show that Zero Trust is not just a set of new products and services. Rather it is a significant step forward in the evolution of cybersecurity from a focus on robust defences to the need to implement a high level of resilience – and an acceptance that no perimeter can be made completely safe from attackers.
Buzz words like Zero Trust are great for the hype generated , but there is also a need have a deeper understanding of the domain in question to make good decisions. Because reaching the goals of zero trust will involve a step-by-step transition and likely be different for every organisation based on their legacy and plans.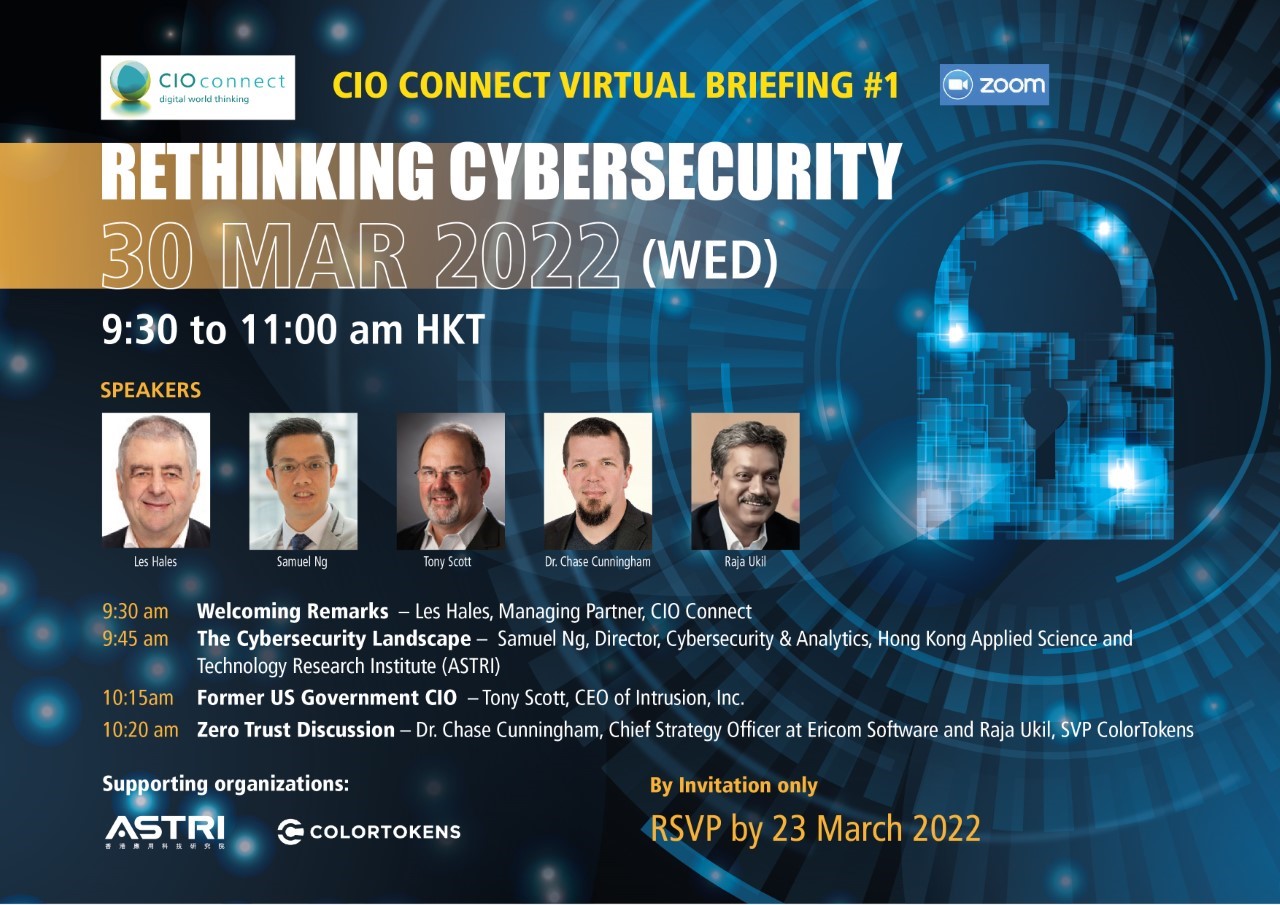 ___________________________
CIO Connect briefing with Tony Scott – Former US Gov't CIO – 12th October 2021
The next e-briefing will be a fireside chat with Tony Scott, Former US Government CIO.
Tony will be reflecting on the key lessons that he has learned from his time as a CIO. After that he will then focus on stories of the 30-year-plus war that he fought against hackers, ransomware threats, and data theft. Tony will summarise the weapons employed by bad actors and how new approaches to cybersecurity can make organisations more resilient.
About Tony Scott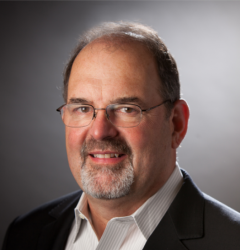 Tony Scott is CEO of the Tony Scott Group, and is a Senior Advisor for Cybersecurity and Privacy at Squire Patton Boggs, a prominent International law firm. Until January 2017, he served in the Obama administration as the 3rd Federal Chief Information Officer (Federal CIO) for the U.S. Government, and was appointed to that role by President Obama in February 2015. The Federal CIO has oversight, budget and management responsibilities for the more than $85 billion that the Federal Government annually spends on IT. In that capacity, he created the government wide response plan after the OPM cybersecurity hacking incident, including the Cybersecurity Sprint and Implementation Plan (CSIP), which dramatically improved the information systems security posture of the Federal Government. His numerous appearances before Congress, and many other forums – providing CXO level public and private sector insight on matters such as digital workplace transformation, cybersecurity, governance, open data, and workforce diversity have been widely recognized.
Immediately before joining the Obama administration, Tony was the Chief Information Officer at Vmware. Prior roles include the Chief Information Officer at Microsoft Corporation, Chief Information Officer at the Walt Disney Company, and Chief Technology Officer at General Motors Information Systems & Services.
___________________________
CIO Connect – Winmark webinar: Powering Business Transformation 27th July 2021
This session will explore the megatrends and key influences, such as data and the cloud that can be harnessed by organisations seeking to constantly adapt to today's ever-changing business terrain.
Chaired by Peter Smith, Managing Partner at CIO Connect HK.
About Joe Locandro – Chief Digital & Business Transformation Officer with the Australian Energy Market Operator (AEMO)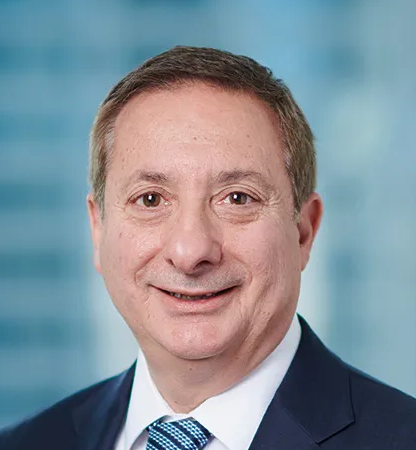 Joe has had a highly diversified career working across multiple geographies in Asia, the Middle East & Australia, together with operating across multiple disciplines including IT Management, Consulting & Marketing.
About Andre Blumberg – Senior Director of Information Technology at the CLP Group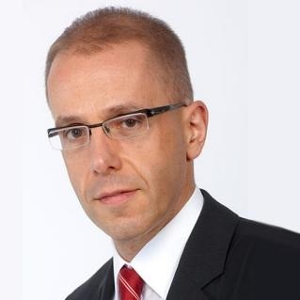 Andre's role at CLP involves providing vision and leadership across the group in the development and implementation of viable and sustainable technology and business solutions. Andre also has had a diversified career in IT Management, Technology & Architecture and Consulting.
___________________________
CIO Connect-LEF Evening Briefing: A Cynefin fireside chat on 20th October 2020 (virtual session)
This year has come as a shock to the global system. We have been plunged into a period of Complexity and Uncertainty summed up in the acronym VUCA (Volatile, Uncertain, Complex and Ambiguous).
The Cynefin Framework was developed precisely to help decision makers make sense of challenges in such uncertainty. This October, it celebrates 21 years of practical application. The Framework was first formulated by Dave Snowden in IBM Global Services, and has since evolved in its form and usage. Drawing from fields as diverse as physics, evolutionary biology, anthropology and cognitive psychology, Dave and his associates have been challenging conventional thinking on strategy, innovation, leadership, culture and change in human systems.
Three issues are this year mentioned often in business conversations ; innovation, resilience and digital transformation.
Join Dave and Zhen Goh of Cognitive-Edge at this fireside chat to listen to and discuss these topics and other issues on your agenda. Moderating the discussion will be Jose Ferreira Pinto and Les Hales.
About Dave Snowden – Founder and CSO of Cognitive Edge & Director of the Cynefin Centre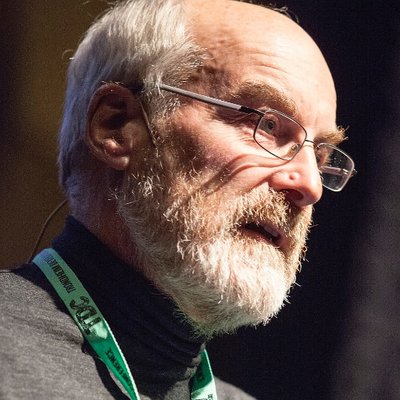 Dave Snowden divides his time between two roles: founder Chief Scientific Officer of Cognitive Edge and the founder and Director of the Centre for Applied Complexity at the University of Wales. His work is international in nature and covers government and industry looking at complex issues relating to strategy and decision making. He has pioneered a science based approach to organisations drawing on anthropology, neuroscience and complex adaptive systems theory. He is a popular and passionate keynote speaker on a range of subjects, and is well known for his pragmatic cynicism and iconoclastic style.
___________________________
CIO Connect-LEF Evening Webinar on China: Short-Term Tensions and Long-Term Strategies – 6th Oct 2020
Western strategies and attitudes toward the rise of China often differ fundamentally. This depends on whether you predominantly see China as a marketplace, supplier, business competitor, military and geopolitical competitor – or a combination of all these.
Join David Moschella of the Leading Edge Forum for a fascinating session exploring how China is on track to be the primary source of industry disruption during the 2020s, and covering some of the key dynamics that will define this decisive decade, including:
• Why have short-term economic interests historically outweighed long-term national competitiveness concerns?
• Why  have the US and others shifted the debate & made national security, national competitiveness & human rights its top-priority issues?
• Is any sector exempt from having a plausible 'disruption from China' scenario?
• What do companies need to do to provide detailed & transparent information about engaging with China across their supply & demand chains?
About David Moschella – Leading Edge Forum Research Fellow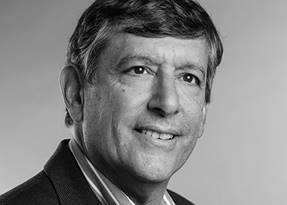 David Moschella is a Research Fellow at LEF where he explores the global business impact of digital technologies, with a particular focus on disruptive business models, industry restructuring and machine intelligence. Before LEF, for more than a decade, David was in charge of worldwide research for IDC, the largest market analysis firm in the information technology industry, responsible for the company's global technology industry forecasts and insights. A well-known international speaker, writer, and thought leader, David has recently released his latest book, Seeing Digital – A Visual Guide to the Industries, Organizations, and Careers of the 2020s. He is also the author of two earlier books – Customer-Driven IT (Harvard Business School Press, 2003), and Waves of Power (Amacom, 1997). He has lectured and consulted on digital trends and strategies in more than 30 countries, working with leading customers and suppliers alike.
___________________________
CIO Connect Evening Briefing on Convergence – Tas Tasgal – 21st May 2020 (virtual session)
Covid-19 and its rapid spread has been a shock to the global system. But not only has there been a scramble to limit the threat to lives and maintain essential services, but leaders in organisations are also thinking about the future and what the 'Next Normal' will look like.
Tas Tasgal will share with us with his views on what will emerge. He wants companies to accept a greater depth of convergence across CP Snow's entrenched "2 Cultures" and will attempt to provoke thought by arguing:
1. Behavioural Economics suggests we are poor at predicting the future, especially what Taleb calls Black Swan events. So, it may be that our forecasting of the New Normal is radically flawed: perhaps we will emerge into The New New.
2. Ideally, though, we will still witness an acceleration of convergence -not just of the physical and virtual worlds.
3. This will hasten the demolition of siloes, compartments and divisions [private and public sector] and traditional hierarchical structures, especially job titles and responsibilities.
About Anthony 'Tas' Tasgal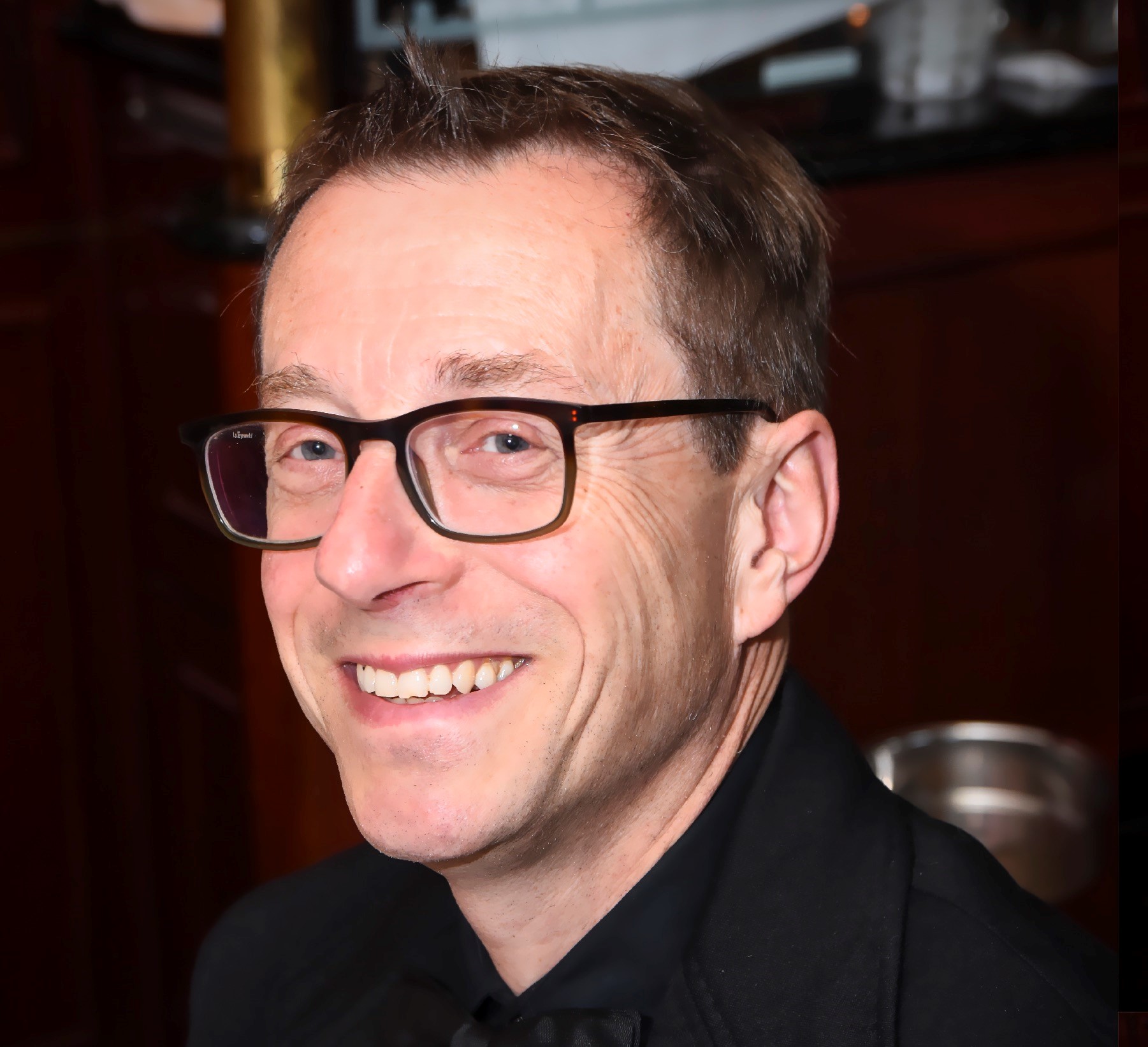 Tas is a Man of Many Lanyards.
He runs his own training company and is a Course Director for the CIM [Chartered Institute of Marketing], the Market Research Society, the Institute of Internal Communication, the AAR (ad agency/client relationship advisers) and the Civil Service College, running courses on Storytelling, Behavioural Economics, Insightment and Creative Briefing amongst others in the UK, US, China, Hong Kong, Australia, Sweden and UAE.
He is also a long-term Ad Agency planner and still freelances with several agencies and clients, for example currently helping the Royal Albert Hall tell their story ahead of their 150th anniversary in 2021.
Besides this, he is an Associate Lecturer at Bucks New University, Nottingham Trent and Beijing Normal Universities and a Principal Advisor for CIO Connect in Hong Kong, the premier advisory service dedicated to CIOs and other tech leaders in HK.
He regularly speaks at client events and international conferences, for example at the US Insights Association "Next" conference in New York in May 2017 the Australian Market Research Society annual conference in Sydney in 2017, and more recently in 2019 at the Knowledge Management Asia in March, at Inbound, in Boston in September as well as Keynoting at Microsoft's Global Sales Summit in Seattle.
Tas also regularly appears on TalkRadio's Early Breakfast show to discuss marketing and advertising topics.
He is the author of The Storytelling Book, the award-winning guide to using storytelling techniques to improve presentations and communication. The book is already on a fifth re-print and has been translated into Mandarin. His second book, "The Inspiratorium", a compendium of insight and inspiration hit the shelves in 2018.
His new book "Incitations", arrived in April 2020. You can hear him talk about insight, story and the human condition in this podcast or this video clip.
He speaks passable French, obsesses about etymology, over-avidly follows Arcade Fire, and plays tennis and skis harmlessly
___________________________
CIO Connect/Leading Edge Forum Briefing: The digital workplace – 16th April 2020 (virtual session)
"Reconfiguring the Collaborative Workspace: Making the most of Time, Space and Attitude" was published in November 2019 by Leading Edge Forum's Digital Anthropologist Dr Caitlin McDonald and Research Associate Victoria Ward. This report probed the implications of new trends in digital and organisational structure for the collaborative workspace and collaborative working practices, and made substantial recommendations to support a strategic shift to hybrid and virtual working.
Fast forward a few months, when we find ourselves in the middle of the COVID-19 pandemic. Probably for the first time ever responding to a global situation of this nature and severity, organizations' crisis management can now include precautionary measures like closing offices or encouraging working from home. The ubiquity and reliability of digital infrastructure, and the range of tools on offer opens up opportunity for contingency that haven't been there before. It feels as though we are at an inflection point where something that was already in the ether is shifting the workplace irreversibly in ways we cannot yet fully understand or integrate.
We have the two authors of the report join us to explore how:
• As leaders, how do we build the right environments—physically, digitally, and mentally for our teams to achieve both collaborative and focus-time potential?
• As teams, how do we express and negotiate our shared working practices? How do we explicitly build in time for the social interaction and micro-moments of connection that happen very differently in a virtual setting?
• As an individual, how do I claim the best conditions for my own working style and support others in theirs?
The session as always is expected to be an interactive discussion with the Hong Kong participants to share their own COVID-19 experiences in respect to digital workplace impacts.
About Caitlin McDonald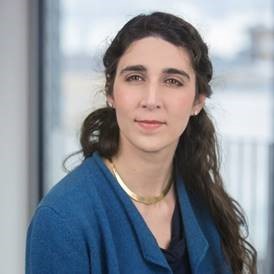 Dr Caitlin McDonald is the LEF's resident Digital Anthropologist. She helps business leaders and teams learn to step outside their version of 'normal,' suspend judgement, and consider things from many different perspectives. This gives businesses the leading edge through boosting customer empathy, finding new solutions to old problems, and enriching the insight power of big data through multidisciplinary approaches.
Recognised for her domain knowledge in qualitative methods like ethnography and participant-observation, Caitlin spent six years at the quantitative coal face developing analytical models and designing dashboards for the world's largest collaboration and talent network for education professionals. Before that Caitlin earned her PhD following dancers around the world and across the internet, understanding how information flows for cultural bodies of knowledge like dance are impacted by technoscapes (the digital world around us.) Her combined expertise gives her a uniquely balanced perspective for gleaning wisdom from the intersection between human imagination and digital systems.
Caitlin is a trustee for Ellpha Citizen, a charity leveraging the power of data science and AI to create a more gender balanced world, faster. Her passion projects include building the Facebook Messenger bot Duologue, which rescues people from uncomfortable silences by providing the user with questions to help keep the conversation going.
About Victoria Ward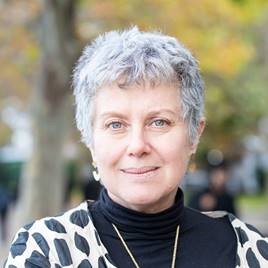 Victoria works as a coach, strategic adviser, convenor for, and companion to those who seek to create lasting change, in themselves, in their teams and networks, in the organisation as a whole, or in the system in which the organisation plays a part.
She left NatWest in 1997 to set up a radical new multi-disciplinary practice, specialising in knowledge, narrative, knowledge networks and cultural transformation. Before acting as Chief Knowledge Officer at NatWest Markets, Victoria acted as Chief Operating Officer, Capital Markets, and Managing Director, Global Futures. She joined NatWest from the London International Futures Exchange working as head of R&D, education and statistics, as well as working with Exchange members, and with regulators internationally to change the tax and regulatory regime for index futures and options, and, among other things, to provide a robust response to regulatory enquiry into the role of index futures and options in the market crash of 1987. A 20+ year portfolio includes work in the public, private, not for profit and cultural sectors, with development banks and agencies, financial institutions, government agencies and departments, regulators, international manufacturing and pharmaceutical companies, academic institutions and museums.
Victoria is internationally recognised as being at the forward edge of thinking and practice in knowledge management, communities of practice, narrative research, technology-enabled collaborative and storytelling approaches to complex organisational challenges and transformation.
She plays oboe and cor in amateur music ensembles and volunteers in a local authority bereavement befriending service.
.___________________________
CIO Connect 'Follow the Money' Evening with Debbie Hudson – 23rd January 2020 at the China Club
One of the most popular study tours over the years from the Leading Edge Forum and other research services is a study tour of Silicon Valley to find out where investors are placing their funds. This 'Follow the Money' exercise provides early visibility to CIOs of emerging technologies and related innovative services. In today's digital era of innovation, money is not just flowing to California but to many locations in the world including cities like London and Berlin and above all Mainland China.
Our guest speaker is Deborah 'Debbie' Hudson, a partner in Shackleton Ventures, who is visiting HK between 21st and 24th of January. Shackleton has investments in North America, Europe and Asia. She is also an investor in CIO Connect which has offices in the UK, Singapore and Hong Kong.
During dinner, she will share her well-travelled perspectives on promising developments in technology.
About Debbie Hudson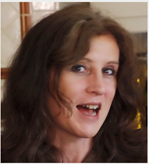 Deborah has been a venture capital investor since 2000. As a founder of Shackleton Ventures she focuses on secondary venture and development capital investments – buying existing holdings from investors seeking liquidity, providing new funding and helping portfolio companies to grow and realise value. Deborah and her colleagues are also active angel investors, focusing on environment, health and nutrition.
Deborah has a breadth of investment experience having served on over 30 boards and worked on more than 20 company exits. Her current portfolio ranges from FinLeap, Europe's leading fintech ecosystem and company builder; Panintelligence a business analytics company that she co-founded 5 years ago; and Adgero a recent cleantech startup.
Prior to her VC career, Deborah held roles as Head of Business Development and eCommerce at Britannic plc, consultant at McKinsey, and MD at Hardcore Jeanswear. She graduated with the Henry Ford II Engineering Scholarship from Imperial College and holds an MBA with distinction from INSEAD.
.___________________________
CIO Connect Evening with Allen Yeung – 28th October 2019 at the China Club
Data governance is the overall management of the availability, usability, integrity and security of data used in an enterprise. A sound data governance program includes a governing body or council, a defined set of procedures and a plan to execute those procedures.
But how many organisations today in Hong Kong have a program that ties together all the components of Data Governance together or even see the need for one.
Our guest this evening is Allen Yeung, former CIO of the HK Government and Founding Chairman of the recently launched Institute of Big Data Governance (iBDG) who will explain the goals & objectives of the iBDG, and expand on the need for iBDG to drive business growth in HK.
About Ir Allen Yeung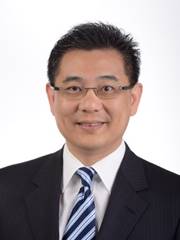 Founder & CEO, Intelli Global Corporation
Founding Chairman, Institute of Big Data Governance
Former Hong Kong Government Chief Information Officer
Mr. Yeung served as the former Hong Kong Government Chief Information Officer (head of department, Justice of Peace) and was responsible for formulation of policies and strategies for Hong Kong's IT industry and formulation of the smart city blueprint in developing Hong Kong into a world class international city. He was the Chief Corporate Development Officer at the Hong Kong Science and Technology Parks Corporation. Mr. Yeung had worked for several high-tech companies in USA and Asia. Recently, he founded the Institute of Big Data Governance along with many industry veterans with a vision to develop Hong Kong as the data hub in Asia.
Mr. Yeung receives his EMBA from Kellogg-HKUST, MSEE from Purdue University and BSEE from University of Texas, Austin.
Data being the new oil for digital economy, how can it be shared or exchanged, while satisfying various jurisdictions' increasing hash requirements such as EU's GDPR and Mainland China's Cybersecurity Law.
.___________________________
CIO Connect Evening with Dr Huong Nguyen – 17th September 2019 at the China Club
Dr Huong Nguyen from the New Zealand Treasury will discuss enabling and challenging aspects of organisational strategies, particularly those relating to technology, and flexible skills and capabilities to prepare for unforeseen futures. An open discussion is planned about how Hong Kong and Macau organisations are preparing themselves for the future in respect organisational design and diversity.
About Huong Nguyen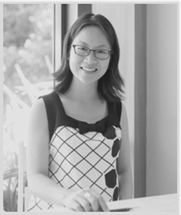 Dr Huong Nguyen has had diverse work experience within Australasia and the ASEAN. She is an experienced university lecturer, workshop facilitator, and provides part-time consultancy services to the heath sector and pharmaceutical industry. She is passionate about cultural competence and how to make strategies work in organisations. Huong holds a PhD in human resource management – exploring the management of diversity, focused on how skilled migrants navigate different cultural and professional spaces. In her spare time, Huong volunteers and devotes her skills to community and charity educational projects.

For the New Zealand Treasury, she is part of a team who advises the Executive Leadership Team on strategic planning and performance. Indeed, Huong's expertise is in strategy formulation and implementation in the public sector.
She is currently focusing on a foresight and strategic planning project across several OECD countries. Huong is inquiring into how the public sector can better serve citizens by employing innovative thinking across public finance management, cross-government collaboration, and public-private partnerships.
.___________________________
CIO Connect Evening with Bill Genovese from Huawei Technologies – 10th September 2019 at the China Club
We continue the theme of Digital Transformation and Innovation in the next CIO Connect evening briefing on Tuesday, September 10th at the China Club. Our guest will be Mr. William (Bill) Genovese of Hua Wei . Bill will present "Accelerating the Journey to Digital Maturity through E2E Innovation"
• Hear Huawei's insights on accelerated digital transformation for enterprises
• Discuss key trends impacting the financial services industry and if strategic priorities align with these to understand how to accelerate digital transformation to maturity
• Explore the necessity of re-shaping business models and IT through the lens of key digital accelerators; cloud computing, open banking, AI, Blockchain and mobile money
About Bill Genovese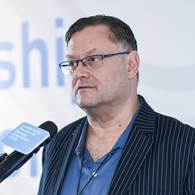 Bill Genovese is Vice President of Corporate Strategy, Banking & Financial Markets at Huawei Technologies, in Shenzhen, China. Bill's responsibilities include the further development of Huawei's Financial Services Industry Strategy with research and formulation of new solutions encompassing technology and business architectures, emerging technologies centered on AI/Anaytics, Blockchain, Mobile/Digital and IoT, and evolving business models in the FinTech / RegTech era across the financial services sector.
Bill is also Huawei's representative and Co-Chair of the China Greater Bay Committee in the FinTech Association of Hong Kong, a CTO and Executive Board Director for Saving Promise, and recently has also joined FinTech4Good on their Advisory Council as a Financial Services and Investment Committee Advisor.
Prior to joining Huawei in 2016, Bill was a CIO and CTO for a Blockchain Strategy and Technology company in the US, and a Principal Advisor for a CIO Advisory Consulting firm. Bill has spent most of his 25 year career with IBM, KPMG, and Wells Fargo Bank, stationed in Europe, Americas, and Asia Pacific regions working holding various senior management roles such as CIO, CTO, Principal Technology Architect and Executive Architect. Bill holds multiple industry and professional certifications focused on full-scale enterprise architecture and technology in the Financial Services Industry.
.___________________________
CIO Connect Evening with David Reid from Leading Edge Forum – 16th July 2019 at the China Club
In recent years, use of the term digital transformation has skyrocketed in the business press. Why? For more than a decade, companies have been migrating to various cloud computing and software-as-a-service environments, but the digital world now anticipates a much more powerful wave of change based upon some combination of smart products, machine intelligence, business platforms, automated processes, employee learning, chatbots, and more self-service, data-driven operations. Taken together, such capabilities provide a vision for transformed, 21st century, digital organizations.
But how real is this vision today, and where are companies on this journey? To better separate today's transformation facts from the hype, Dave Reid, will discuss the findings of one of LEF's most recent pieces of research, examining the Myths and Realities of Digital Transformation and discussing issues including:
• Has the term 'Digital Transformation' been over-used and abused, and is there confusion with the terms Modernization, Transformation and Disruption?
• Is Digital Transformation a high business priority?
• What is the RoI case?
• Real transformation tends to cut across existing organizational silos; how can leadership overcome the inevitable inertia, politics, and short-term payoff concerns
• While businesses and governments find it easy to launch new digital initiatives, making change at scale often proves difficult, so how can enterprise IT make change stick?
• Digital firms need digital people. How are organizations handling the people issues and nurturing the required learning culture?
About David Reid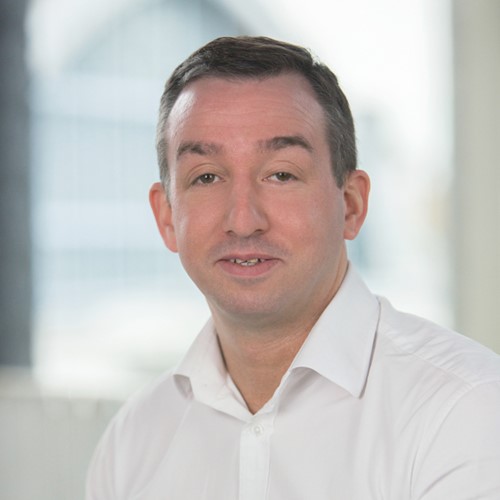 Dave is responsible for the day to day operations of the LEF and plays a lead role in the shaping and delivery of the research agenda to clients. Dave has significant experience in helping business and technology executives re-shape their plans to exploit the opportunities offered in the digital world. Alongside his general leadership role, Dave has driven research into business and digital transformations with C-Level leaders and is heavily involved in the delivery of advisory work and facilitation of LEF Study Tours.
Before joining LEF, Dave spent a decade with GlaxoSmithKline in a wide variety of UK and International roles. He latterly led global cross-functional teams to define and implement product and technology roadmaps. Dave also spent time as Director for IT Strategy in the GSK Commercial Business, where he led the development and approval of strategies to support CRM and sales force mobility in over 70 countries.
Aside from his professional responsibilities, Dave likes to spend his spare time with his two young daughters and has a keen interest in cycling, golf and cars and motorcycles.
.___________________________
CIO Connect Evening with Euan Semple on the 2nd May 2019 at the Cipriani's
Our guest is Euan Semple, a leader and an influencer in the ever changing field of digital technology for two decades. Euan is in HK to deliver a Digital Transformation Foundations Workshop to provide guidance on delivering high level strategic leadership on digital issues.
About Euan Semple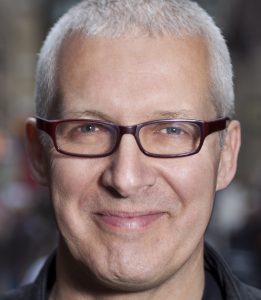 An early adopter of social media he implemented one of the world's first enterprise social network systems inside the BBC. He also ran BBC DigiLab, a department whose purpose was to help the BBC understand new technologies across the range of its activities and make better decisions about their use and implementation. He left the BBC in 2006 to establish his own consultancy and has subsequently worked around the world with an amazing range of organisations including BP, The World Bank, The European commission, and Volvo. His work with them has been to help stretch their thinking about digital transformation in all its forms and to ensure that they end up doing the right things for the right reasons.
.___________________________
CIO Connect Evening with Dave Snowden on Monday 8th April 2019 at the Crown Wine Cellars
Dave , who many of you know, is a thought leader in the field of management science and a polymath. He has mapped out the shift from the era of scientific management to the world of systems thinking and now what comes next, something he calls the era of cognition and complexity.
Over drinks and dinner, he will facilitate a discussion on a number of themes including:
– The tyranny of social media;
– The strategic management, culture and software development attempts at enabling agility;
– The status of knowledge management;
– The dangers of data analytics; and
– Sentiment analysis and human sensor networks.
About Professor Dave Snowden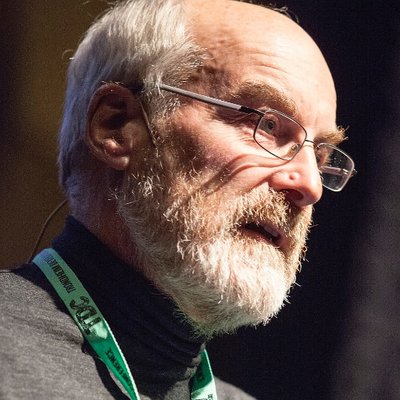 Dave Snowden is the founder and chief scientific officer of Cognitive Edge. His work is international in nature and covers government and industry looking at complex issues relating to strategy, and decision making.
He has pioneered a science based approach to organisations drawing on anthropology, neuroscience and complex adaptive systems theory. He is a popular and passionate keynote speaker on a range of subjects, and is well known for his pragmatic cynicism and iconoclastic style.
His paper with Boone on Leadership was the cover article for the Harvard Business Review in November 2007 and also won the Academy of Management award for the best practitioner paper in the same year.
Dave previously worked for IBM where he was a Director of the Institution for Knowledge Management and founded the Cynefin Centre for Organisational Complexity. Prior to that, he worked in a range of strategic and management roles in the service sector.
.___________________________
CIO Connect Evening briefing – AI & Innovation discussion with Professor Amy Shuen – 20th Mar 2019
We continue the theme of AI in the next CIO Connect evening briefing on Wednesday 20th March at the China Club.
Our guest will be Prof. Amy Shuen. Amy will discuss best practices from her Applied AI and Innovation courses being run for INSEAD and HKU. One case study that she has recently been working on is relevant to this region that was written up in California Management Review as 'AI-enabled Business Model re-invention at Ping An' .
About Professor Amy Shuen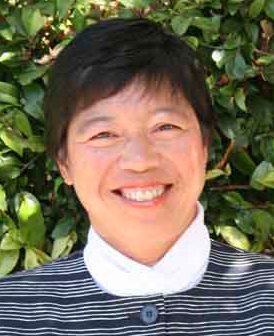 Amy is both a celebrated Academic, having trained at Yale, Harvard and Berkeley but also has an impressive track record as an advisor and consulting partner to large enterprises such as IBM, Telefonica, Samsung etc, as well as numerous companies in the Valley. She is currently working at Harvard Business School and also is teaching currently with Hong Kong University Department of Engineering & Computer Science.
Author, California Management Review, "AI Dynamic Capabilities: Re-inventing business models in the FinTech Insurance Industry"
Strategy and Innovation Consulting: Consultant's consultant at BCG, Strategy&, IBM Ventures. As founder of The Silicon Valley Strategy Group created a $100M corporate strategic innovation venture fund and funded $20M in new ventures in the wireless, financial services, media, software and nano-sensor areas; Partner, The McKenna Group Global 100 clients include Credit Agricole, GE Europe, Virgin, Societe Generale, PPR, Bouygues, Nokia, SCF, France Telecom, EDF; advised the CEOs/founders of over 50 VC-funded portfolio companies and directed strategy field projects of over 200 MBAs.
Industry Experience: Founding team, Sloan Foundation Competitive Semiconductor Manufacturing Program at Berkeley, a global industry consortium; Marketing Manager at Intel.
.___________________________
CIO Connect Evening briefing – AI discussion with SenseTime – 19th Feb 2019
Our guest at the China Club will be Stella Tian, Investment Director of Strategic Investment of SenseTime.
SenseTime is the world's most valuable artificial intelligence (AI) unicorn focused on computer vision and deep learning. The company has raised a total financing of more than US$1.6 billion and is valued over US$4.5 billion. Entrusted by the Ministry of Science and Technology of China to establish the National Open Innovation Platform for Next-Generation Artificial Intelligence on Intelligent Vision, SenseTime is the fifth national AI platform in China (along with Baidu, Alibaba Cloud, Tencent and iFLYTEK).
With the mission of leading AI innovation to power the future, SenseTime has independently developed a deep learning platform, supercomputing centers, and a range of AI technologies such as face recognition, image recognition, object recognition, text recognition, medical image analysis, video analysis, autonomous driving, and remote sensing. In doing so, SenseTime has become China's largest AI algorithm provider.
SenseTime leads the market in almost all vertical industries, including smart city, smartphone, mobile Internet, online entertainment, automobile, finance, retail, education, real estate, and so forth. The company boasts more than 700 customers and partners in China and overseas, including world-renowned institutions and companies such as Massachusetts Institute of Technology (MIT), Qualcomm, NVIDIA, Honda, Alibaba, Suning, China Mobile, UnionPay, Wanda, Huawei, Xiaomi, OPPO, vivo, Weibo.
About Stella Tian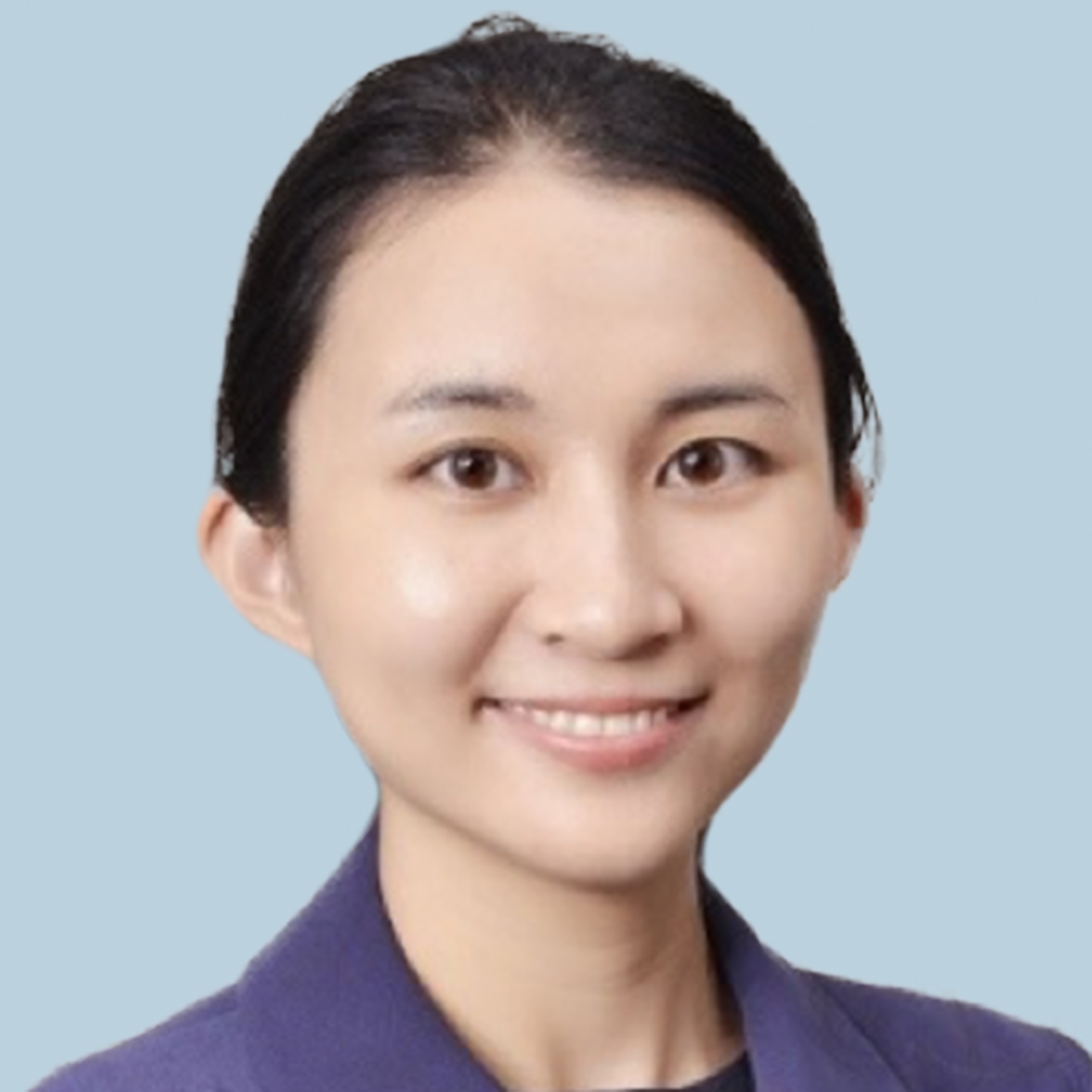 Stella is the Investment Director of Strategic Investment of SenseTime, focused on investing companies in the AI ecosystem and finding long term strategic partners. She is also the Director and Founding Member of SenseTime's AI Fund.
Stella specialises in investments across a wide range of AI ecosystem technologies and companies. Before joining SenseTime, she covered emerging technologies at Alliance Bernstein, where she focused on hardware, semi-conductor, AI/AR/VR technologies and supply chain. Previously, Stella worked within M&A and TMT teams at Citi Investment Banking across New York, Paris and Hong Kong where she executed a number of significant cross border M&A transactions, including multiple global investments of LaFargeHolcim, one of the largest European mergers, and privatization of Trina Solar etc. Stella was also formerly a corporate lawyer at Freshfields Bruckhaus & Deringer and led the legal department at JA Solar.
She received a bachelor's degree in Peking University Law School. She also holds an MBA from Massachusetts Institute of Technology and a master's degree in Law in University of Virginia School of Law.
___________________________
CIO Connect Evening briefing – Digital Platforms – 17th Jan 2019
Our guest and moderator on the topic of digital platforms is Kurt Kammerer. Kurt will share his experience from growing platform businesses over the past 20 years of his career.
About Kurt Kammerer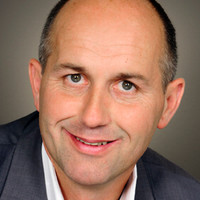 Kurt Kammerer CEO, Co-founder Kurt co-founded Regify (register & certify) in 2007, a software company that offers a unique multi-provider model for networked trusted communication and collaboration. The Regify ecosystems help increase productivity and quality of processes while ensuring compliance in the financial, healthcare, manufacturing or public sector.
As a software entrepreneur, Kurt established and grew several international software and communication businesses. From 2003 to 2007, he led the growth of US-based VI Agents, a pioneer in SaaS applications for networked businesses. From 1996 to 2002, Kurt served as CEO of living systems, an international supplier of adaptive e-commerce software based on software agents which he had co-founded in 1996. His earlier career spanned 10 years as an IT and management consultant. Kurt holds a Business and IT degree from the University of Karlsruhe, Germany.
Kurt was honoured as a "Technology Pioneer" by the World Economic Forum. He also received awards from the Asia-Europe Young Entrepreneurs Forum in Singapore and the Wharton Infosys Business Forum.
___________________________
CIO Connect – LEF briefing breakfast forum – 22nd Nov 2018
Presentations from Mohammed Khalid and David Moschella , Leading Edge Forum
CIO Connect and Leading Edge Forum (LEF) held a breakfast briefing at the HK Yacht Club on Thursday 22nd November. London-based Leading Edge Forum is a cross-industry think tank that helps C-level leaders and their organizations win in the 21st Century by re-imagining their digital agenda through a combination of thought leadership, context-specific advice and facilitated interventions. Working in partnership to deliver research and advisory services in the Greater Bay Area, CIO Connect & LEF hosted their first breakfast briefing earlier this year in June.
This briefing will highlight the key findings in a new book, Seeing Digital, which describes the digital ecosystem in the post-cloud era. Authored by LEF Research Fellow, David Moschella, Seeing Digital uses simple illustrations and jargon-free language to show how today's ever-more powerful digital capabilities will reshape the way businesses innovate, operate, and compete — and what this ongoing transformation will mean to both organizational leadership and individual careers.
8.00 am Registration
8.30 am Welcome – Les Hales, Managing Partner, CIO Connect
Breakfast served
9.00 am Leadership in an increasingly uncertain world – Mohammed Khalid, Commercial Director, Leading Edge Forum
Khal will provide a brief introduction to Leading Edge Forum, and the LEF research agenda for 2019.
He will also share observations on the leadership challenge that organisations face in a world where uncertainty is becoming the new norm, and where "over 50% of companies fail in the 1st phase of digital transformation". People won't embrace change if they don't understand it, so it important to tackle the management of change as well as the technology. Making the shift requires leaders to develop their humility, curiosity, vulnerability, and other key human traits.
9.30 am Seeing Digital – David Moschella, Research Fellow , Leading Edge Forum
In June 2018, Leading Edge Forum published Dave's latest book, Seeing Digital, which envisions the coming Post-Cloud era, characterized by an increasingly intelligent, aware, autonomous and self-healing digital infrastructure. What we call the post-cloud era has already begun, as a powerful new wave of technology — including machine learning, smart products, software agents, wearables, blockchains, speech/facial recognition, robotics, augmented realities, algorithms, and 5G wireless bandwidth — gains momentum. Like the great technology waves of the past, this important phase of innovation will generate exciting new marketplaces, but also significant industry restructuring.
Seeing Digital explores how this powerful matrix of capabilities will reshape the way business innovates, operates and competes in the 2020s, and result in what we call the Triple Transformation of Industries, Organizations, and Careers. It forecasts the wide-ranging impact of these technologies and assesses the myths and realities of industry disruption; the necessity of machine intelligence; the importance of platform business models; the nature of the outside-in organization; the challenges of digital transformation, leadership and risk; the future of the IT organization; the coming focus on the Human Platform; and the outlook for today's increasingly high-stakes global technology competition.
These dynamics will result in an ongoing "triple transformation" — of industries, organizations, and careers —that will challenge today's entire business and technology ecosystem.
10.30am – Meeting ends
About David Moschella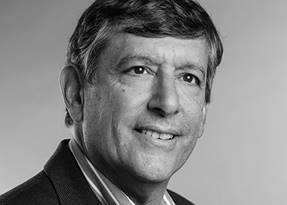 David Moschella, based in the United States, is a Research Fellow for Leading Edge Forum. David's focus is on industry disruptions, machine intelligence and related business model strategies. David was previously Global Research Director of the programme.
David's key areas of expertise include globalization, industry restructuring, disruptive technologies, and the co-evolution of business and IT. He is the author of multiple research reports, including Disrupting the Professions through Machine Learning and Digital Trust, 2016 Study Tour Report: Applying Machine Intelligence, There is Now a Formula for Machine Intelligence Innovation, Embracing 'the Matrix' and the Machine Intelligence Era and The Myths and Realities of Digital Disruption
.
An author and columnist, David's second book, Customer-Driven IT, How Users Are Shaping Technology Industry Growth, was published in 2003 by Harvard Business School Press. The book predicted the shift from a supplier-driven to today's customer-led IT environment. His 1997 book, Waves of Power, assessed global competition within the IT supplier community. He has written some 200 columns for Computerworld, the IT Industry's leading publication on Enterprise IT, and has presented at countless industry events all around the world.
David previously spent 15 years with International Data Corporation, where he was IDC's main spokesperson on global IT industry trends and was responsible for its worldwide technology, industry and market forecasts.
About Mohammed Khalid (Khal)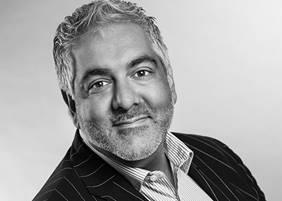 Mohammed Khalid (Khal) is Commercial Director for Leading Edge Forum based in London. Khal works with clients to bring research to life and resolve their most pressing business issues.
Khal is an experienced leader having spent the last 8 years with Gartner, a leading IT Research & Advisory company, in a variety of roles across Europe. Latterly, Khal was Regional Vice President for Gartner Executive Programs in the Benelux region where he was responsible for service delivery excellence and strategic business development across the region, as well as leading a team of highly experienced former CIOs and IT executives.
Throughout his time at Gartner, Khal has also been a trusted advisor to CIOs across several industries including Financial Services, Telecoms, Logistics, Healthcare, and Public Sector.
Khal holds a BSc in Mathematics and an M.Ed in Educational Psychology from the University of Manchester.
___________________________
NextGen Leadership Programme Graduation Ceremony- 25th Oct 2018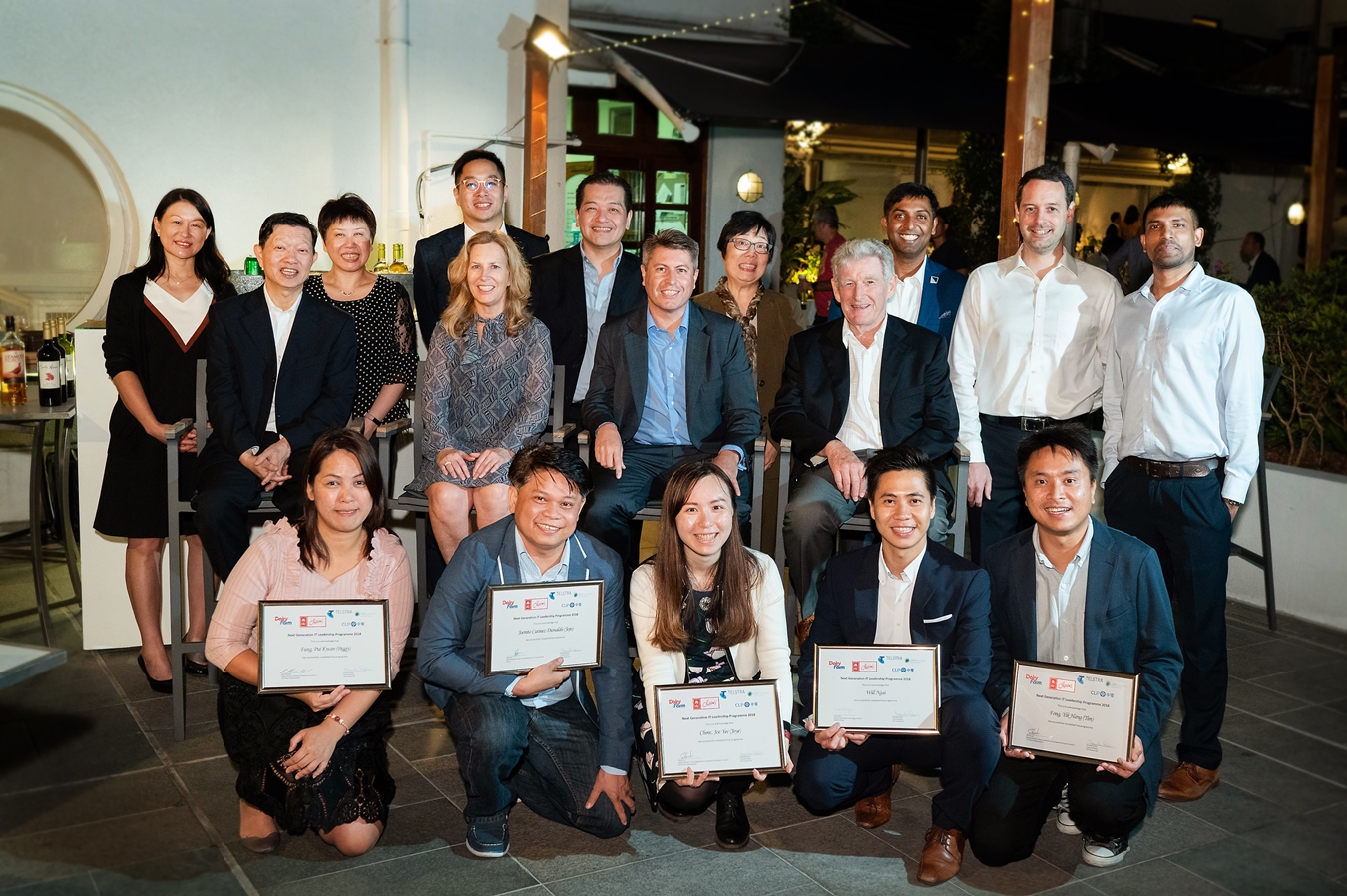 An evening of drinks and presentation of certificates was held at the Royal Hong Kong Yacht Club for the Class of 2018, with both sponsors and mentors of the nine particpants of this year's Leadership Programme.
Congratulations to the graduates for 2018:
Jojo Dionaldo – Telstra
Joye Chow – CLP
Kinman Tsang – Maxims
Peggy Fung – CLP
Ramakrishna Muddam – Dairy Farm
Sajal Dutta – Dairy Farm
Tim Fong – CLP
Will Ngai – Maxims
William Dong – Telstra
___________________________
CIO Connect Evening Dinner with Anthony Scriffignano – 7th Sept 2018
Anthony is the Chief Data Scientist of Dun & Bradstreet based in New York. Anthony will share his experiences of leading the data science practice of one of the leading global research firms for many years, and how these lessons can be applied in other enterprise settings.
About Anthony Scriffignano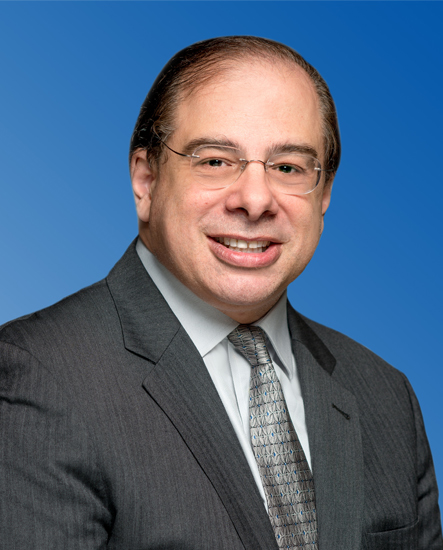 Anthony Scriffignano is an internationally recognized data scientist with experience spanning over 35 years, in multiple industries and enterprise domains. Dr. Scriffignano has extensive background in linguistics and advanced algorithms, leveraging that background as primary inventor on multiple patents worldwide. He provides thought leadership globally.
Recently, he briefed the US National Security Telecommunications Advisory Committee and contributed to reports to the President on Big Data Analytics, Emerging Technologies Strategic Vision, and Internet and Communications Resilience. Additionally, Scriffignano provided expert advice on private sector data officers to a group of state Chief Data Officers and the White House Office of Science and Technology Policy. He also served as a forum panelist and keynote speaker at the World Internet Conference in China hosted by President Xi Jinping, as well as at the China Development Forum and Big Data Expo in Guiyang. His white paper A Strategy For Inclusive Development In A Big Data Context was delivered to the State Council of the People's Republic of China. Scriffignano was recently recognized as the U.S. Chief Data Officer of the Year 2018 by the CDO Club, the world's largest community of C-suite digital and data leaders.
He was recently published or quoted in various publications including China Daily, The People's Daily, Xinhua, China Times, JieMian.com, Taiwan News, Bangkok Post, Mint (India), CIO.com, PCWeek, Forbes Insights, Huffington Post, Business Insider, InformationWeek, and others.
Scriffignano regularly presents at business, government and academic venues globally.
___________________________
CIO Connect Evening Briefing at Ciprianis – 23rd August 2018
Our guest for the evening briefing is Gina Smith. Gina is in Hong Kong working on a project with Hanson Robotics.
She is an entrepreneur, author, and journalist who co-wrote Steve Wozniak's 2006 autobiography iWoz: From Computer Geek to Cult Icon: How I Invented the Personal Computer, Co-Founded Apple, and Had Fun Doing It.
Gina will share her experiences as an industry insider in Silicon Valley during the heady days of the Dot Com era, together with her time as CEO of the world's first true Internet appliance company, The New Internet Computer Company, in collaboration with Larry Ellison.
About Gina Smith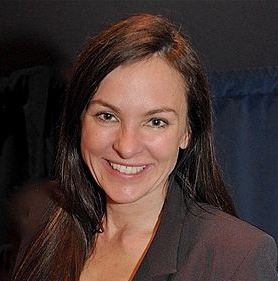 Gina Smith, PhD is the NYT bestselling author of Apple founder Steve Wozniak's biography, iWoz: From Geek to Cult Icon (WW Norton, 2006/2014). She is also the author of The Genomics Age (Amacom, 2006), a Barron's Book of the Year. She is the co-author of The Mountain Within: Leadership Lessons for Your Climb to the Top (McGraw, 2011), 101 Computer Answers You Need To Know (Simon & Schuster, 1995) and Toolbook: Programming for Non Programmers (1992). Smith, an award-winning journalist and former ABC News correspondent, resides in San Francisco.
She is also a co-founder and editorial director of aNewDomain, a technology news site. In 2001, Smith was named one of the 100 most influential people in technology by Upside Magazine.
___________________________
CIO Connect – LEF Partnership Launch Event breakfast at the Hong Kong Club – 27th June 2018
Presentations from Simon Wardley & Glen Robinson, Leading Edge Forum
CIO Connect and Leading Edge Forum (LEF) invite you to the Hong Kong launch event of LEF's research services. London-based Leading Edge Forum is a cross-industry think tank that helps C-level leaders and their organizations win in the 21st Century by re-imagining their digital agenda through a combination of thought leadership, context-specific advice and facilitated interventions, to provoke and challenge your thinking with next-practice insight.
Working in partnership to deliver research and insight in the Greater Bay Area, CIO Connect & LEF hosted a breakfast briefing in the Harcourt Room of the Hong Kong Club in Central, on Wednesday 27th June, from 08.00-10.30am.
LEF Researchers Simon Wardley and Glen Robinson shared key findings and insights from recent LEF research, focused on organisational strategy, gameplay, and the fundamental evolution of the IT organisation – which will cease to exist as we know it today.
The Next Best Organisational Structure, Until the Next One – Simon Wardley
Facebook talks in 3s – the product development triathlon with explore, expand, extract. AirBnB talks in 3s – pioneer, settlers and town planners within elastic product teams. Even the UK Intelligence Service has talked in 3s – research, specialist and commodity in a hybrid dynamic model. But is 3 the right answer? The strategy cycle is one of those simple mental devices which hides a world of complexity. On the surface, it's all about observing the environment (the landscape and climatic patterns which impact it), orientating around it (the doctrine or principles we might use), deciding where to attack (leadership) and then acting. Simon will discuss one aspect of doctrine – the way in which we organize. We will look at the issue of constraints, use of small teams and the importance of aptitude (the skills we have) and attitude (how we use those skills) in organization.
The Renaissance of the IT Organisation – Glen Robinson
IT Organizations of the future will look nothing like those of today. For the next phase of digital technology evolution LEF chose the term Matrix to convey an intelligent societal infrastructure that mirrors and supports the full range of human activity.. It captures the pervasive, aware, embedded, intelligent and autonomous technology landscape that is now emerging. The Matrix is changing not just the way that businesses and society innovate, operate and compete, but even the way we will think about ourselves in the 21st century. Glen will examine how the IT Organization needs to evolve in the face of platform business models and the increasingly sophisticated matrix of capabilities that organizations can tap into, including cloud, internet of things, talent networks and the need to turn data into insight. The LEF predicts the end of the IT Organization as we know it, but anticipates its renaissance in the Matrix era.
About Simon Wardley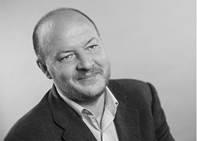 Simon Wardley, based in the UK, is a Researcher for Leading Edge Forum and the lead practitioner for Wardley Maps advisory service helping clients anticipate market and ecosystem developments.
Simon is a seasoned executive who has spent the last 15 years defining future IT strategies for companies in the FMCG, Retail and IT industries. From Canon's early leadership in the cloud computing space in 2005 to Ubuntu's recent dominance as the #1 Cloud operating system.
As a geneticist with a love of mathematics and a fascination in economics, Simon has always found himself dealing with complex systems, whether it's in behavioural patterns, environmental risks of chemical pollution, developing novel computer systems or managing companies. He is a passionate advocate and researcher in the fields of open source, commoditization, innovation, organizational structure and cybernetics.
Simon is a regular presenter at conferences worldwide, and has been voted as one of the UK's top 50 most influential people in IT in recent Computer Weekly polls.
About Glen Robinson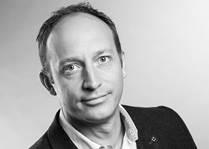 Glen Robinson is an Emerging Technology Director and Distinguished Engineer for Leading Edge Forum.
Glen's main focus of research is leading edge Enterprise technology solutions that will power the 21st century business. He is the co-author of our research publication The Renaissance of the IT Organization. The cloud has unlocked innovation that is now allowing the next wave of disruptive technology solutions to come to market, and whilst businesses are still working out how best to maximize the value from cloud services, they are now aware of 'the Matrix', this advanced sensing, deciding, all-seeing, global force that will be a significant threat to some. But others will learn to understand it, to harness its power, giving them and those around them super-powers. Put simply, we are moving into a time where our own capabilities will be augmented by that of powerful, intelligent robots. A lot of the tasks we do today won't exist tomorrow as they will be fully automated but also watched over and governed by advance cognitive intelligence.
As consumer expectations leapt forward with the adoption of the internet, so too is it about to leap forward once more now the Matrix is upon us. This will change the way we service our customers, deal with our employees and live and do business in the 21st century.
___________________________
CIO Connect evening dinner at the Crown Wine Cellars, Shouson Hill – Tuesday 15th May 2018
The CIO Agenda for 2018: Rewiring the culture for digital transformation
Discussion moderated by Jesko von den Steinen
Innovation and digital transformation within organisations will require different processes and skills than we are currently promoting. Innovation is often associated with technology, but the practice of innovation is human, analogue and non-linear by its nature.
The future success of companies will not just be in the advancing of technologies, but in how well people can creatively collaborate.
We have seen that current business environments are becoming increasingly complex. Paradoxically as businesses scale to meet this complexity, they crave a structured and systematic environment, inversely limiting the ability to adapt.
A rigid plan as strategy that may work today, will likely not work tomorrow given the rapid pace of disruption and our reduced ability to understand or depict future and ideal states. So, what to do?
For organisations, adaptation and innovation continue to be necessary for survival with the increasingly rapid pace of change. In response we need innovation not just in technology, but also with our "idea" technology. Or, in other words: we need to rethink how we work together.
Here is where an agile HR and IT department have the opportunity to be the catalysts of change. They can tactically assign change agents to foster the spread of "communities of practice" eventually changing the entire ecosystem.
During the evening we will discuss four principles from the performing arts and share how they relate to business, innovation. We will also discuss some of the successes and learning failures we have made by adopting Agile practices within our non-IT functions.
About Jesko von den Steinen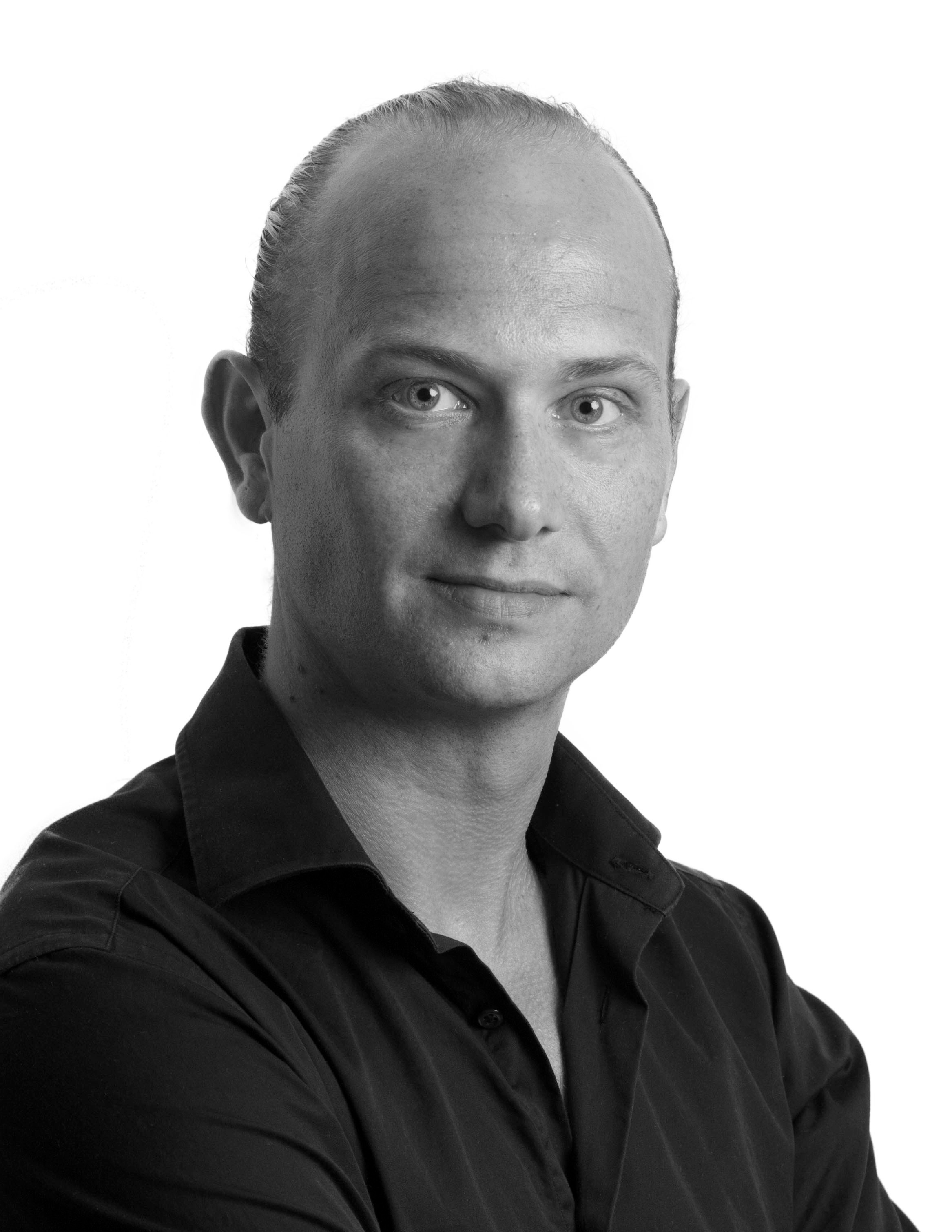 Jesko is a speaker, actor, performer, choreographer, filmmaker, designer, and formerly a principal solo artist with Cirque du Soleil, and at "The House Of Dancing Water," the world's largest water-based show created by the Franco Dragone Entertainment Group held at the City of Dreams in Macau.
Jesko is currently working with a large integrated resort as an associate director at the organisational innovation and leadership centre. He works specifically with senior executive teams across departments, facilitating the development and execution of company-wide internal strategic initiatives.
In Montréal, he has worked as a creative strategist, experiential designer with advertising luminaries SIDLEE & C2 MTL. He obtained his MBA in Business Strategy from the University of Saint Joseph in Macau. He is a visiting professor at the University, teaching creativity and innovation to graduate students.
He currently volunteers with TEDx Wanchai in Hong Kong, where he's the director of speaker coaching and presentation literacy. He works privately with executives in Hong Kong and Macau on organisational coaching and presentation literacy.
___________________________